Using the GPLed linux driver with the Belkin F5D6050 Adapter.
(Atmel AT76C503A based wireless usb device)
Go to my main wireless page for pictures.... this all needs an update which I will get to doing where time permits!
If you have a Netgear MA101 USB device, try http://www.mckinney.co.nz/wireless/gpl-driver.html for more information.
What you need:
Getting and compiling the driver
By CVS
You need cvs installed for this. Its on the RedHat install CDs if its not installed already.
make a directory to put the code in. go into that directory
run: cvs -z3 -d:pserver:anonymous@cvs.atmelwlandriver.sourceforge.net :/cvsroot/atmelwlandriver co atmelwlandriver as one line.
This will download the source code. (if prompted for a password, just hit Enter)
From here
You can download an "old" file from here (atmelandriver.tgz - 604Kb) if you prefer the CVS tarball I used.
Go into the atmelwlandriver directory
Run: make config
select the following options:

build all? no
build debug version? yes - ONLY IF YOU WANT A LOT OF SYSLOG MESSAGES.
build usb drivers? yes
build usb 503a rfmd driver? yes
build usb 503a intersil 3861 driver? no
build usb intersil 3863 driver? no
build usb rfmd 505 driver? no
build pcmcia drivers? no
build miniPCI driver? no
build applications? yes
build command line application? yes

run: make install
run: depmod -a (ignore any errors - there is a patch out to solve this, but it isn't on this site)
Making it work
First, make sure your usb card driver module is loaded. Check with lsmod or run modprobe usb-ohci
Plug in your Belkin F5D6050 usb device. Check the syslog output - it should show that the device was plugged in to the bus.
Install the Atmel driver - Use modprobe usbvnetr. I have found that installing the Atmel driver before plugging in the device results in the whole thing just stopping at "resetting usb device" and it goes no further.
You should get some messages in syslog to say the device is registered and also some to the console.
Sep 17 23:32:19 machine kernel: usb.c: registered new driver usbvnetr
Sep 17 23:32:19 machine kernel: usb_vnet_probe: usb vendor/product=d5c/a002
Sep 17 23:32:22 machine kernel: vnet_kernel.c: Reseting Usb Device
Sep 17 23:32:22 machine kernel:
Sep 17 23:32:22 machine kernel: vnet_kernel.c: Reset completed.
Sep 17 23:32:22 machine kernel: Reg Domain
Sep 17 23:32:22 machine kernel: usbvnetr: driver version 1.0.1, compiled Sep 17 2002 23:29:29 (dbg_mask x0)
Sep 17 23:32:22 machine kernel: MAC addr 00:30:XX:XX:XX:XX firmware 0.90.2.140
Sep 17 23:32:22 machine kernel: Multicast is enabled
Sep 17 23:32:22 machine kernel: vnetusba.c: usb eth1 initialized and registered
Sep 17 23:32:22 machine /etc/hotplug/net.agent: invoke ifup eth1

Then run lvnet to configure the card. It should open a configuration screen.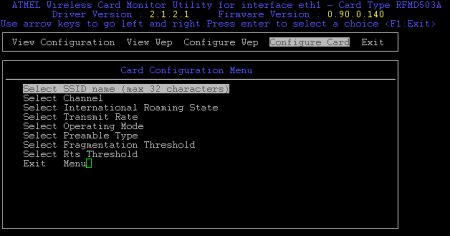 Set all the parameters and then exit the configuration program.

Now you need to add the Belkin interface to your machine routing table. If you don't run DHCP, run:
ifconfig <interface alias> up
ifconfig <interface alias> <ip address> netmask <netmask> then
route add default gw <default gateway ip address>
If you downloaded the driver via CVS, whenever you want to get the latest source code from cvs, go into the atmelwlandriver directory, and run: cvs update. Then run: make clean, then make config ; make install to recompile the driver.
Next, install wireless tools package to configure things using the command line. I don't know how well this works but I am still looking at it.